Welcome to the Lakeview Quilters Guild Website
Lakeview Quilters Guild invites you to join us on the third Monday of every month. We are a Houston/Bay Area guild and we welcome quilters of all ages and experience levels. Throughout the year, we host nationally-known speakers and offer a variety of programs, workshops, quilt-ins, retreats, and opportunities for community service. We encourage you to join us in our love of quilts and quilt-making.

~ Below, you will find our latest news ~

It's Time to Party On...!
That's right... the holiday party is almost on our doorstep, with lots of fun things in store for our members. To help you keep track of everything, Holly Cagle has prepared an agenda that includes a list of things you might want to bring along for some optional games and "audience participation" events.

Click here for the holiday party agenda and the list of things to expect/bring...
and click here for the paper foundations of the optional 6-inch paper pieced quilt blocks. Whee -- joy and happiness will be abounding at the party - 6:00 pm, Monday, December 16th. Please come and join in the fun! If you did not purchase your ticket by December 11, the dinner price is $15 at the door - we encourage you to rsvp in any case - just let Holly know you're coming so we have enough food for everyone!

Spring Retreat
The 2014 Spring Retreat starts on Wednesday, March 19 and runs through noon on Sunday, March 24. Registration begins at the January 2014 guild meeting; space is limited so sign up when registration opens! Registration forms are included in the newsletter!

NEW-->>
The Stars are all in Alignment!! And you can join in....
JSC astronaut Karen Nyberg is onboard the International Space Station and has assembled a star block while in space. Wow! Next year, the block will be on display as part of a star-themed quilt at the Houston Quilt Festival's 40th anniversary show. What an "out of this world way to celebrate!" You can participate in this project by submitting your own 9-1/2" (unfinished size) block. For more info, click here.

NEW-->> Lottery Blocks <![if !vml]>
<![endif]>
The next lottery block -- a pieced heart block - is due in January; we are skipping a lottery in December. For instructions on making this block, click here. How does the lottery work? Make two blocks. One is for the lottery; the other is for the guild's August 2014 auction. For each two blocks you make, you get one chance to win all the blocks in the lottery set. The more you make, the greater your chance to win - and the guild's block-sets bring in auction income that helps pay for our programs.

2013-2014 Raffle Quilt: First Love
Click here for a look at our beautiful raffle quilt, First Love. At the next guild meeting, pick up your tickets to sell if you haven't - or turn in any money you have collected from ticket sales. Donna Bracewell or Marsha Fuller can answer any questions you have.

The Quilt Show is Coming!
The guild's 2014 quilt show theme is "First Love" -- we have many first loves, including children, spouses, quilts, friends... love abounds! And we get to share our love of quilting and inspire others when we hold our quilt show; it will open on May 15 (members only evening) and close on May 17. It takes a lot of work to hold a quilt show, and we need all of our volunteers to stand up and take part -- just contact Marci H or Jann D and let them know what you'd like to do to help out. How can you help? Click here to check out the Show Guide!

NEW-->> Workshops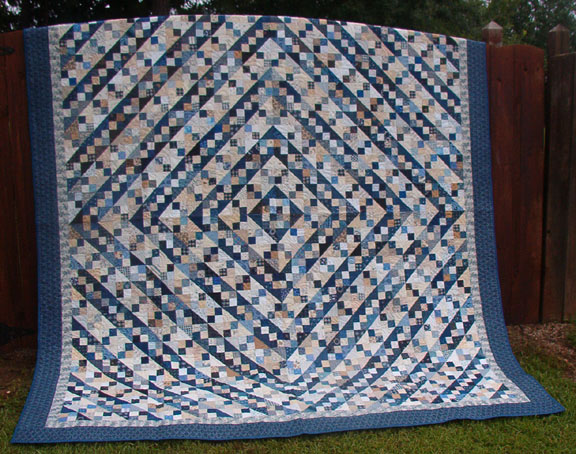 Check out all of our upcoming workshops by looking at the guild calendar. Workshop sign-ups are taken at the Workshop table at guild meetings, or contact Valerie M. Sign-ups are considered confirmed only after payment of fees. Sign up early as slots often fill quickly.

Sign-ups have already started for Bonnie Hunter's Blue Ridge Beauty quilt workshop. Check out the CALENDAR for information and a supply list; the workshop is in February. This workshop will likely fill quickly, so sign up early! UPDATE: This workshop is full - but feel free to get on a waiting list.

Check out the Calendar
Betty Rich has been busy enlisting speakers for 2014. Take a look at who she has lined up for the coming year - it promises to be a good one! Click on the Calendar link at the top of this page and then scroll down to the bottom.

The Farmer's Wife Club
Lecia Majewski's Farmer's Wife Club meets once a month on Sunday from 3:00 to 4:00 at Pinwheels and Posies (please check the calendar for exact dates). Click here for the most current information.
Using patterns from The Farmer's Wife book, everyone makes four blocks a month - and donates a fifth block from that set to the guild's annual auction. This is a great opportunity to meet other guild members, to see fabrics others choose to use for the blocks, and to easily make enough blocks, over time, for a large quilt.

Community Service Quilts

Interested in making a community service quilt? Check out our Community Service webpage and scroll down for a list of suggested sizes of quilts. Kits are available for cutting squares, piecing squares, quilting, and binding.

Our Library
Click here for a list of our library books by author -- or click here for a list by title -- or click here for a list by category (e.g., appliqué, piecing, etc.). You can also always click on "About Us" (at the top of this page) to find these lists.